Whether you want to give your kitchen a quick update or you are looking for ideas for your new home, the European kitchen styles can be an amazing option for you.
European kitchens are timeless, functional, and simply beautiful! They can range from traditional styles to modern kitchen designs.
Even if you love industrial, modern, or chic looks, you'll find your taste here.
Simply adding a few details to your backsplash, countertops or lighting can make a huge difference in your kitchen style.
Here, you'll discover impressive European kitchen ideas that'll inspire you to create the kitchen of your dreams.
1) European Farmhouse Kitchen Style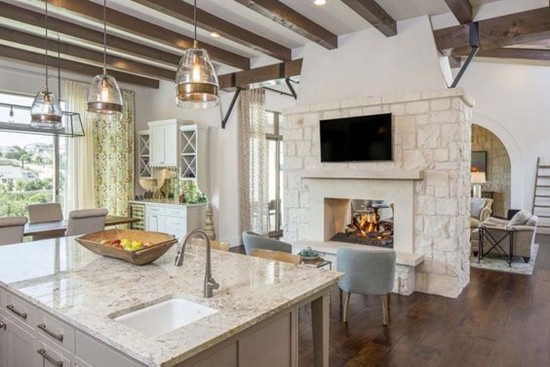 I love bright-looking kitchen styles, and this is just perfect, the bright walls, white kitchen cabinet at the side, and then the cabinetry in the middle just bring the rustic, European farmhouse look to this high-end kitchen.
The lighting at the top adds a modern, classy look that makes all the difference. I'm not sure you noticed the wood flooring, now that's European. There's also a light touch of gold to play in with the classy look.
The mirrored glass at the end really helps bring the natural light into space.
European farmhouse! Doesn't this completely light you up!
2) Stylish Kitchen In Neutral Tones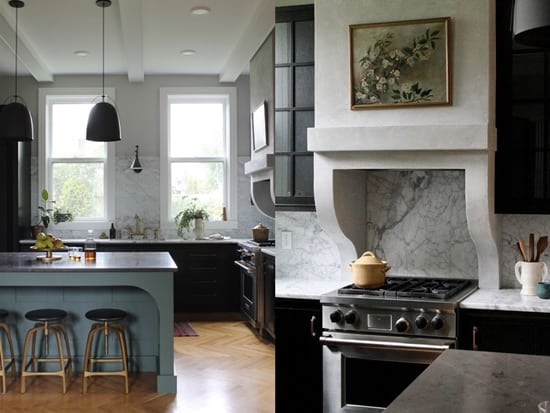 If you're a lover of kitchens with rich neutral tones, this European is beautiful, stylish, and cozy just for you.
You'll love the way the countertops blend in with the black splash leaving a seamless look that'll keep you hooked.
It just feels like a little trip to Europe, with an elegant look paired with functionality.
The gorgeous gold fixtures seem to create a high-end look as they light up the black finishes. The curved stone adds the final European touch to this amazing-looking kitchen.
3) Modern European Kitchen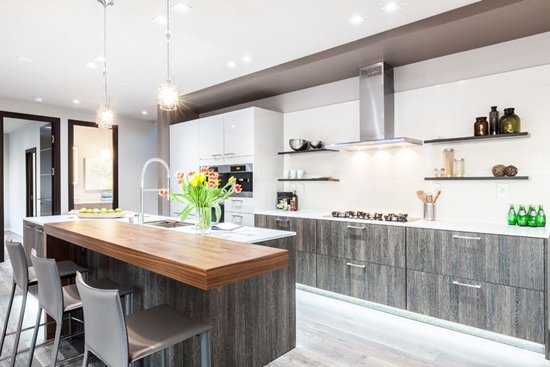 This stylish European kitchen features a rustic, chic look that's great to look at.
The beautiful metal cabinets blend in perfectly with the cream white marble giving a modern bright look.
The white painting also stands out as beautiful and classy and blends in with the countertops.
4) Eat-in Kitchens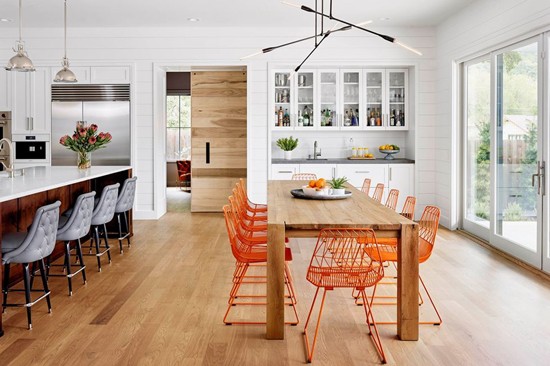 The Eat kitchens are one of the most charming kitchen designs for me.
While a large percentage of homes in Europe will preferably go with the traditional kitchen bar, some European kitchen designs feature the eat-in kitchen style.
This would be an amazing option if your home layout fits the idea of having an eat-in kitchen.
5) Open Shelving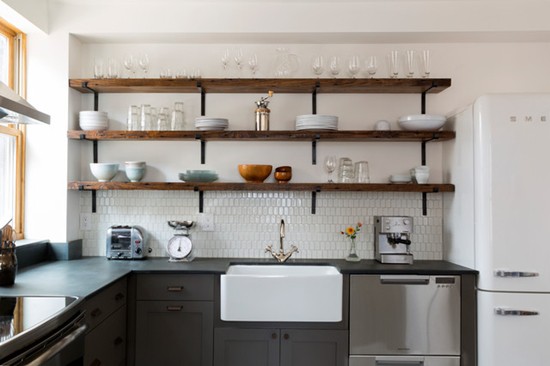 Open shelving in the kitchen is one of my favorites and yes I do love them.
Nothing beats seeing all your favorite bowls and dishes displayed in a beautiful pattern on your kitchen shelf.
When it comes to European kitchen designs, these are good options you can choose from, either you go with the lower or upper shelves.
A unique piece of furniture can also get the job done beautifully.
6) Enclosed Range Areas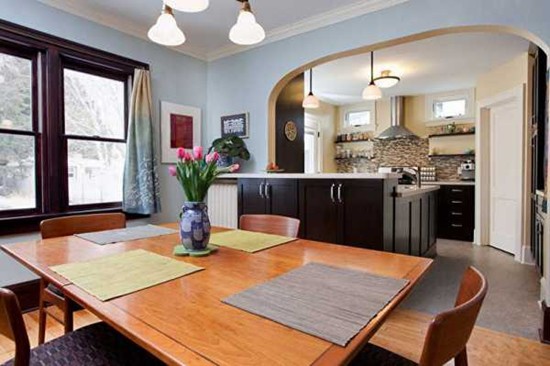 Enclosed range areas are a big hit for me and surely if you are a fan of details then this should be a priority in your kitchen.
Enclosed range areas simply give your kitchen a beautiful focal point and you'd have the opportunity of playing with several elements you'd want. You can simply add splashes of marble and an open shelving style.
7) Use of Metals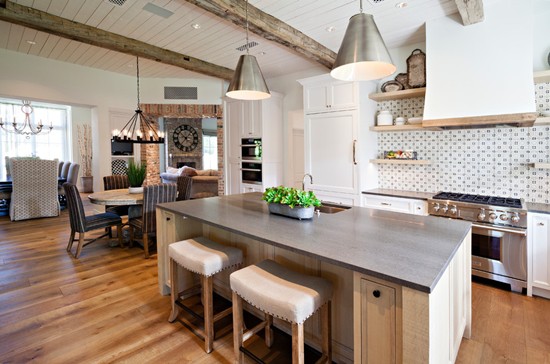 This is certainly a new trend you'd want to try out. Having more than one metal finishing in your kitchen is a great way to beautifully style things up.
There's nothing more liberating than the freedom to mix and match different metals in your kitchen. For more effective results you need to get more patina in the metals you'd want to use.
Your lighting, pots, pans, and hardware should all be appropriately mixed and matched to give the best style you'd want from your metals.
8) Painted Cabinets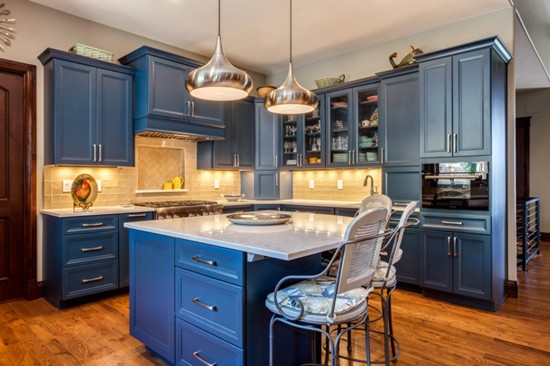 Okay, so everyone probably loves white cabinets but have you thought of just how great it can be if it was a painted cabinet or mixture of both.
I love to have them both, so I'd go with both white and painted cabinets in my kitchen.
The pictures below show the kitchen cabinet that is both white and painted at the same time.
This for me is one of the best ways to style your kitchen without having to do too much. You can take your color cues from the images.
9) Character Pieces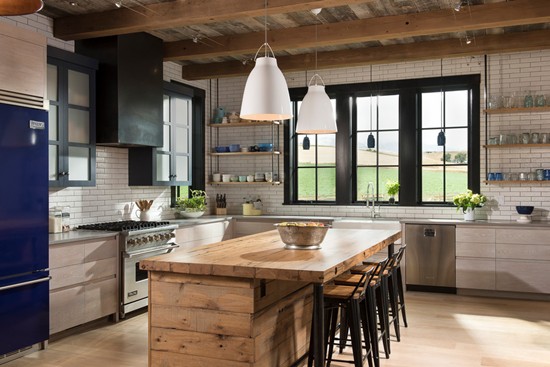 Character pieces are elements that give a kitchen some special feeling different from the ordinary. It does add a special kind of feeling to your kitchen.
I believe every kitchen needs some of these pieces to add character to spaces.
I'm sure you will get inspired after going through some of the images, well I did! And I'm sure you'd too.
10) Space for Appliances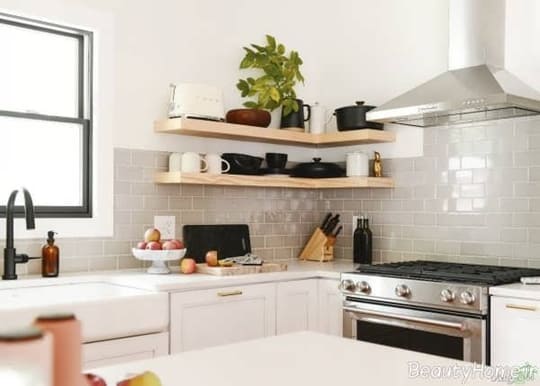 Seamless cabinetry and clean lines are two important features you need to give priority to when designing your kitchen.
Something that will be of great help would be getting a panel-ready appliance for your kitchen.
The images below are gorgeous and believe me, I was inspired by them and I know you'd too.
11) Mix Wood and Marble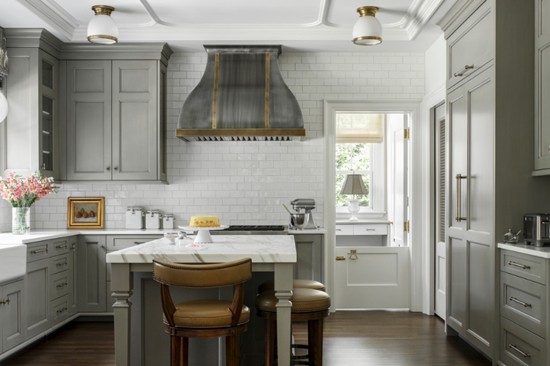 If you have been looking for great combination ideas them you need to look no further. Wood and Marble are the best mixtures you'd want to have in your kitchen.
The images show some beautiful kitchens with a mixture of wood and marble.
These kitchens are nothing but astonishing, In these pictures, you will see how gorgeous they are together irrespective of the elements used.
12) Cabinet Feet and Toe Kicks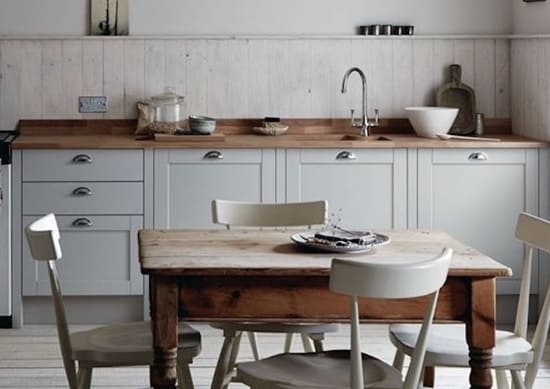 This picture would certainly call you out for sure. It might take a while for you to discover what you love about them, well it did for me.
But I'm sure it won't take long before you discover the cabinet feet! The combination of toe kicks with built-in feet makes the cabinetry look like a beautiful piece of furniture.
If you want to spice things up then mix it with double hardware on a drawer and you'd have the perfect beautiful kitchen you've always wanted.
13) Big Gorgeous Sink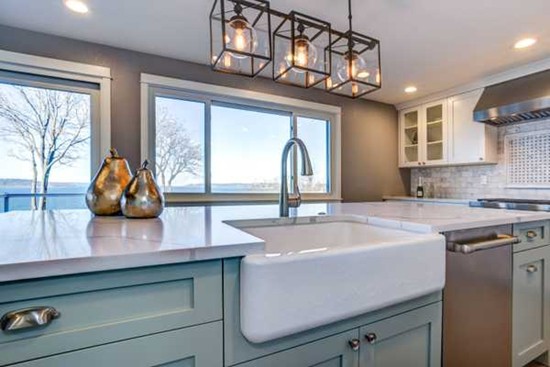 It is understandable if you want to keep things simple but sure to make a statement with your kitchen design you need to go big and one of the best ways to do that is to get a big sink.
You've got absolutely nothing to lose. Just like the pictures, it will add a unique look to your kitchen and also ensure you get the best use of space with your sink.
14) Arched Doorway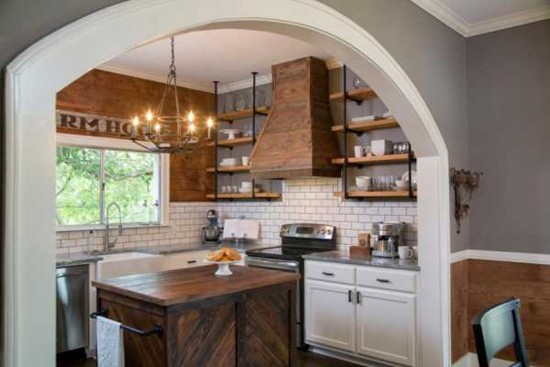 This gorgeous European kitchen features an arch in-between spaces of the kitchen.
This is quite a great thing to do if you want to break up lines in your kitchen by adding some unique characters.
The pantry opening can be one of the best places to accommodate an arch.
15) Smooth Walls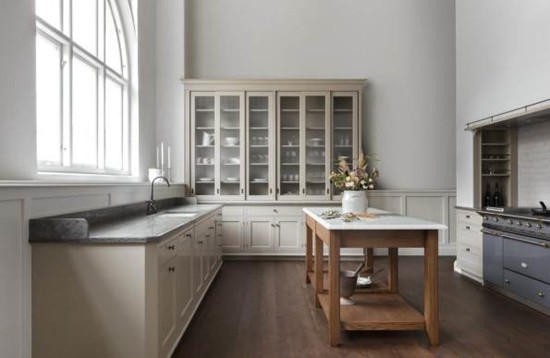 If you are concerned about your kitchen walls, then these pictures should help inspire you in making the best decision on the best wall you'd need.
The wall textures are smooth and creamy – possibly the best wall kitchen design. You can also notice some details being incorporated in the walls just to add more style to them.
I know you will be eager to try out some new paints on your wall after going through these pictures. I'm excited also!
16) Mixing Colors
The usual plain European kitchen design is fast becoming boring to most homeowners and this is large because dark wooden cabinets and vintage tiles are mostly used for the architecture.
This picture features a variety of colors being used to add that extra design to the kitchen. This won't cost you much to replicate if you've fallen in love with the design as I have.
Try it out and give your kitchen that sensational look it deserves.
17) Vintage Grain Sack Upholstery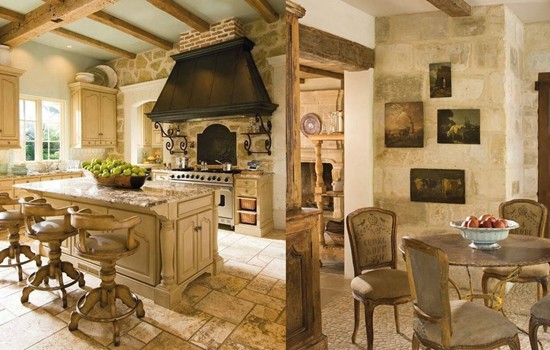 If you are inclined to the vintage theme and don't think adding a modern pop of colors will suffice then you can opt for the vintage grain sack upholstery as seen in the picture.
The grain sack upholstery in the picture perfectly matches the vintage dark wood cabinet along with the upper part of the kitchen.
Again is this one of the best European kitchen designs for those that are in love with the vintage theme.
18) Breadboards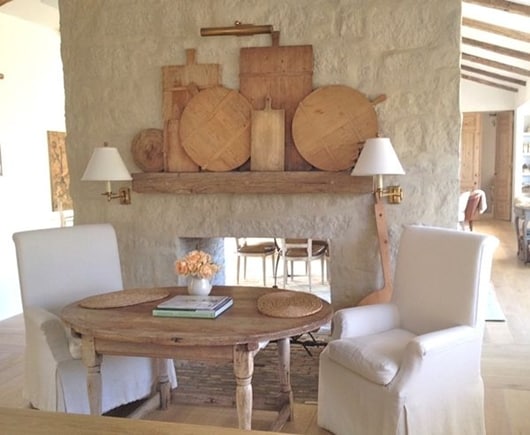 Breadboards are the traditional appliance that was mainly used for getting loaves of bread out and into an oven.
They are still very much in use today and can be the perfect element your kitchen was missing to give it that gorgeous look like the one in the picture.
The picture depicts a country-style traditional European kitchen. I love the breadboards cause I feel they are a great addition to a vintage-themed European kitchen.
Thus, if the vintage style is your pick then adding the breadboards should make it even more perfect.
19) A Mixture of Different Colors and Elements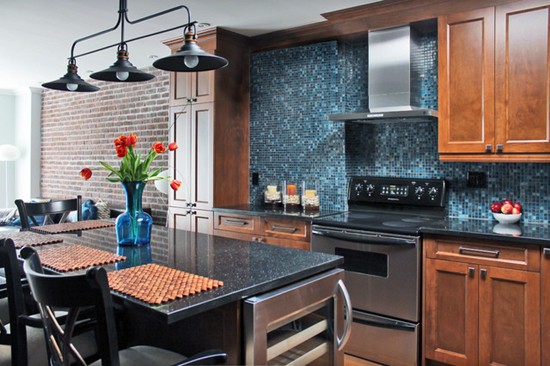 Most times we are guilty of being indecisive in making certain decisions, and this applies to the kitchen. But the best part is most times it can be a blessing in disguise.
The picture features a kitchen with several colors and elements being mixed and matched together to form quite a gorgeous kitchen.
This for me is the highest point of being authentic and it is just perfect.
It is an eclectic-themed European kitchen design and mixture and matching make it the best. Don't forget that this gives room for a lot of creativity.
The blending and combination will only be a product of your creativity, and if that's your forte then why no go for it!
20) Go With Raw Materials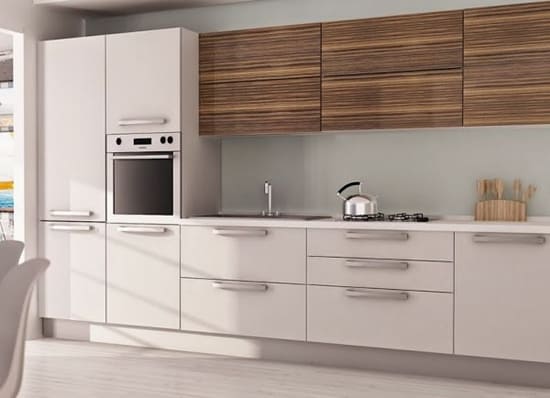 Renovating your kitchen to a modern European style doesn't mean throwing away ever old materials that were in use.
Those raw materials such as wood, concrete, and iron are all needed to give your kitchen the new style you want.
All you need to do is simply mix and match them with modern materials, colors and elements.
The picture shows a mixture of most of the old and modern materials being used together.
21) Fireclay Sinks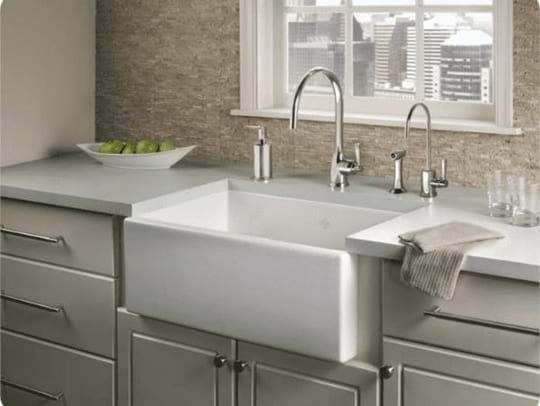 The fireclay sink is an effective way to deal with a mountain of dishes to be washed. I feel comfortable using them.
Therefore if comfort is part of what you seek in your European Kitchen theme, then getting one should be the best option.
Apart from comfort, a fireclay sink also gives your kitchen vintage and authentic style – this could get more gorgeous if properly mix and matched with modern colors and elements.
22) Worktables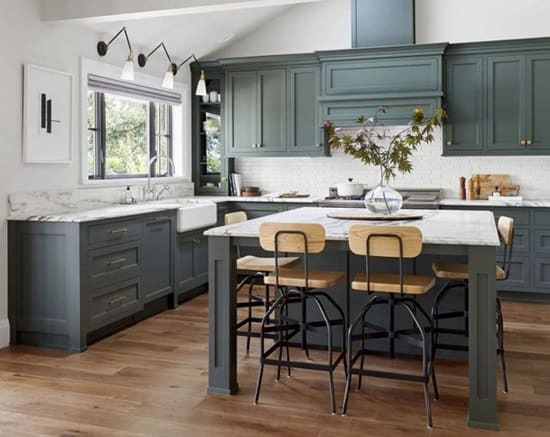 Center island counters are one of the most common designs you'd find in European kitchens.
But what happens if you have little space or your apartment is being rented? Well, the simple solution is to create a worktable.
Worktables are therefore a more reasonable consideration to center island counters.
The worktables are made with legs for support – this gives you enough storage space.
23) Bright White Color
This picture shows a gorgeous bright white European kitchen style. This is so nice cause it seems like you are having a blank canvas to deal with – literally everywhere is white.
With just one color being used you can add any element and character piece you'd want.
You can simply add some extra colors to mix and match the white in between.
24) High Gloss Cabinet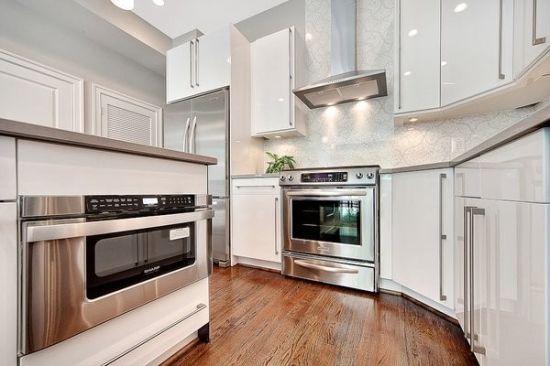 This is certainly a dream kitchen for literally every European homeowner. You can even entertain an entire crowd in this modern European-style kitchen with a high gloss cabinet.
These ultra-high gloss finishes seem like you have a wall of mirrors in your kitchen, giving it that extra classic touch that is needed.
25) Small Kitchen Minimalist Design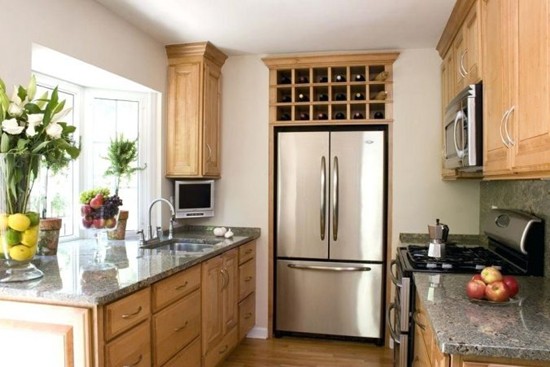 Practicality is the major reason why cabinetry in a European kitchen is designed in a minimalist theme.
Like this picture, you can see how the minimalist design fits the theme of the small kitchen.
You'd also notice that the cabinets match the small galley kitchen – single wall kitchen settings are also a great match.
26) Matte Black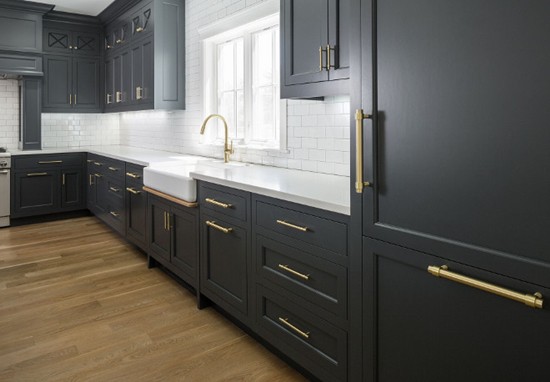 Matte black finishes are a great match with open cabinets. This picture shows a matte black kitchen style with a lot of space – giving it a cool dark luxurious look.
The wood grain in the floor along with the butcher block countertop could only stand out due to the flat cabinet.
27) Wood Veneers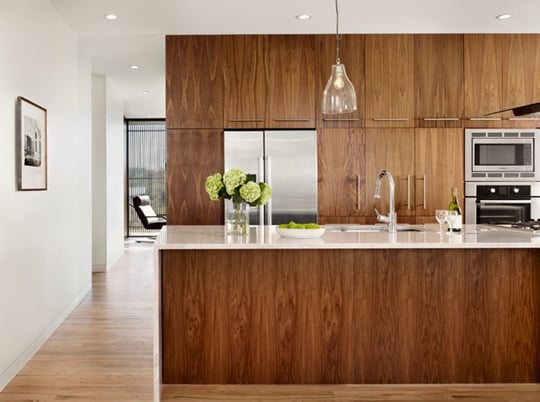 This picture features a kitchen that uses a wood veneer along with gorgeous grain patterns – this provides depth and interest to the kitchen.
Most European-style kitchen cabinet doors are always flat and one of the best ways to accentuate the design is to go with figured wood with gorgeous patterns.