What are the best kitchen appliances?
Which ones can help beginners? And which ones, instead, are more suitable for experts?
We have decided to make a selection that can help anyone rediscover their passion for cooking and healthy eating.
But also useful to all those who want to experiment with new recipes and identify themselves in the shoes of star chefs with the preparation of pizzas, cakes, bread, and all those delicacies that, at this time, we can hardly recover elsewhere.
We begin our collection of low-tech kitchen appliances with a selection of products that even the most inexperienced can use without any problem.
Tools and Robots indispensable to start or perfect their journey to discover gastronomy.
Etekcity Electronic Kitchen Scale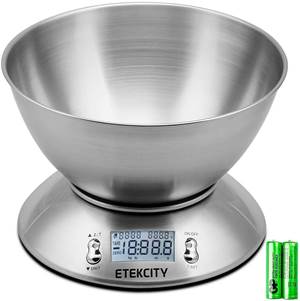 A great start to a successful recipe is obviously to select the proper amount of each ingredient.
Etekcity's electronic kitchen scale is one of the most accurate scales with a margin of error of just 1g.
The company specializing in consumer electronics products ensures reliability and durability with a sleek stainless-steel design.
The capacity of the bowl, also made of steel, is about 5Kg to weigh even large amounts of food in a short time.
The special feature of this scale is the multi-functionality guaranteed by a sensor measuring the temperature of the surroundings and a kitchen timer.
This allows you to control multiple elements (time and external conditions) to get the most out of your cooking. There is also a calibration function for greater precision.
Topping it all off is an excellent value for money.
Electrolux ESB2500 Sportsblender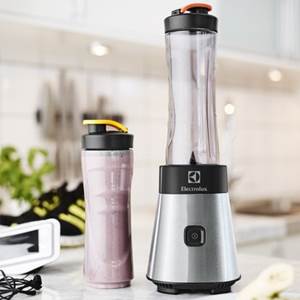 Sports enthusiasts know that staying fit by eating healthy is just as important as exercising.
With the closure of sports centers and gyms, further improving the quality of our eating habits is more important than ever.
The Sportsblender Mini Blender by Electrolux could be among the best kitchen appliances the most efficient ally to stay in shape.
In fact, with this small and practical appliance, you can prepare your own smoothies and milkshakes to enjoy throughout the day.
The Sportsblender mini blender is equipped with four highly efficient stainless-steel blades designed to ensure a fine and uniform blend.
The small yet powerful 300W motor allows the blades to spin at 23,000 rpm for consistently outstanding results.
The Sportsblender mini blender includes two 600 ml bottles that can be used both as a container for chopping ingredients and as an actual bottle from which to enjoy the smoothie or store it, thanks to the practical-colored caps.
The power and versatility of this product make it ideal for all the "velvety" preparations you wish to obtain: smoothies, purees, sorbets but also pesto, creams, sauces and baby food.
Imetec Succovivo Pro 2000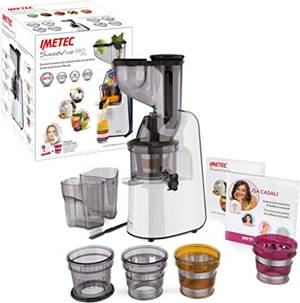 Remaining in the theme "food and health", another valuable ally for our stay (at home) healthy is the extractor Imetec Succovivo Pro 2000.
This is a brilliant professional cold juice extractor capable of maintaining 100% of the vitamins in fruits and vegetables.
The induction motor with steel gears provides 73% more power than a traditional motor for greater product efficiency.
The strong point of this extractor are the accessories with which it is equipped. We find in fact two types of filters, narrow mesh and wide mesh.
The first is designed to obtain more delicate and velvety juices while the second is ideal for more full-bodied juices rich in fiber.
Another accessory is the one designed for the preparation of natural sorbets and tasty slushies from frozen fruit.
Finally, always among the accessories, we also find an innovative beauty filter with which it is possible to create 100% natural face and body masks.
For this last intent, the Imetec SuccoVivo PRO 2000 extractor is shipped with a recipe book by Lisa Casali on how to create a natural beauty mask at home, for a complete health approach.
Ariete 909 – Pizza Plate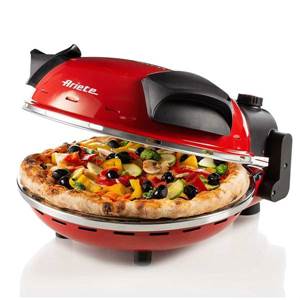 We've seen it everywhere on social media, it seems that everyone these days has tried their hand at homemade pizza.
Not to give up the pleasure of pizza, among the best kitchen appliances, could not miss the Ariete 909 oven comes to our rescue.
It is a plate of 33 centimeters that allows you to cook or heat pizza and focaccia at five levels of cooking up to a maximum temperature of 400 degrees.
The plate is made of refractory stone which allows you to reach the highest temperatures in a short time as well as an even and constant cooking.
Speed and temperature, mimic the characteristics of a wood-fired oven that allows you to bake a pizza in just 4 minutes.
This appliance is also suitable for baking and heating croissants, savory pies or cookies, for greater dynamism in the kitchen without sacrificing quality.
Nescafé Dolce Gusto Machine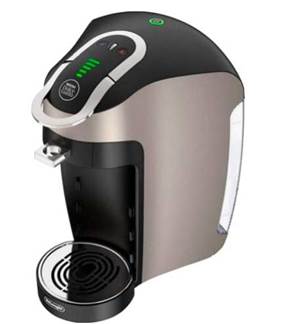 The Mini-Me coffee machine by Nescafé Dolce Gusto has a modern and minimalist design that fits perfectly in every corner of the house.
Equipped with automatic shut-off and different brewing modes, it represents the perfect combination of aesthetics and technology.
The product allows you to enjoy coffee and other beverages in pods thanks to the high-pressure pump that reaches up to 15 bars.
Extremely versatile and with professional performance, the Nescafé machine promises a sensory and unforgettable experience; once you test its simplicity and performance, you won't be able to do without it anymore!
Innsky Air Fryer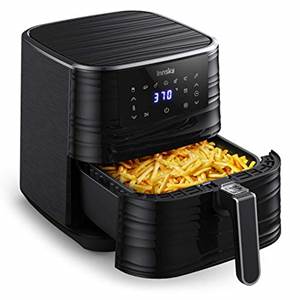 The air fryer Innsky is the perfect solution for those who do not want to give up fried food, but loves to stay in shape.
It combines taste and lightness thanks to the high temperatures reached in the cooking chamber, which allow the use of less than 80% of fat.
The basket has a capacity of 5.5 liters and makes it possible to fry even large dishes.
The multicooker functionality makes the air fryer a versatile tool capable of roasting and grilling and frying.
Thanks to the intuitive control panel, you can choose from eight different preset programs.
Alessi AJM19S5 L Design Kitchen Ladles Set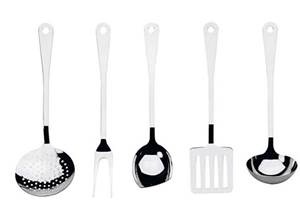 When it comes to determining how to choose a good kitchen utensil, the first rule is that it should be functional.
The second is that it should be durable and resistant, and finally, an eye to style and design is the icing on the cake that never hurts.
They can be considered professional kitchen tools have given the care and attention with which they are made.
In addition, the materials and their workmanship make them perfect to stand up well to prolonged use over time.
The above-average price is also due to some measures aimed at improving the overall quality of the product.
For example, their shape was conceived by the designer Jasper Morrison who aims to create archetypal shapes but also extremely functional as the kitchen ladle that is cut diagonally to be more effective in collecting the food to taste to check the cooking.
Joseph Kitchen Utensils Set With Opal Multicolor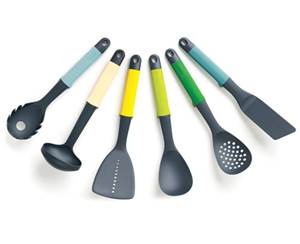 Among the unmissable offers, we also found this incredible space-saving set in which each piece comes in different shapes and functions but made to stack one on top of the other.
Equipped with a magnet, these pieces are very special because they can be stacked side by side to take up as little space as possible.
The set includes the essential elements, redesigned to be more aesthetically effective but no less functional.
There is a fork for draining spaghetti and two spoons, one for tasting brothy preparations and another for pasta, where the cooking water slides from the central hole to avoid scalding.
The plastic material used for these particular kitchen utensils is very resistant and sturdy, an ideal solution if you are looking for something harder than silicone but equally suitable for use directly in contact with the coating of non-stick pans.
Another strong point is the chromatic harmony of the pieces, which are available in two versions, one softer and opalescent and the other more garish with the colors of the rainbow.
MyFancyCraft Oak Wood Tool Set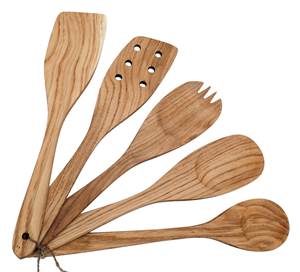 Some people just can't let go of tradition, and among the utensils sold online, there's no shortage of classic wooden pieces.
This five-piece set consists of spoons useful for a variety of purposes, mostly for stirring, tasting, draining, and skewering portions to be brought to the table.
All topped off with a beautiful rustic look that lends itself well to country and classic style kitchens.
Attention to detail also makes this set ideal for gift giving, perhaps as a welcome thought for someone about to inaugurate their new kitchen.
In fact, they are shipped wrapped in natural-looking, unbleached recycled paper and wrapped with raw burlap twine.
Good finishes and a shiny, non-coarse appearance characterize the appearance of the spoons, which in this way do not retain too much of the odors of the preparations and are easier to clean and keep tidy.
They are wooden kitchen utensils useful both for cooking and for serving salad at the table.
In fact, among the spoons, there is one cut in such a way as to simulate the tines of a fork: perfect for mixing and putting the vegetables in the dishes.
Ikea Ordning Kitchen Utensil Holder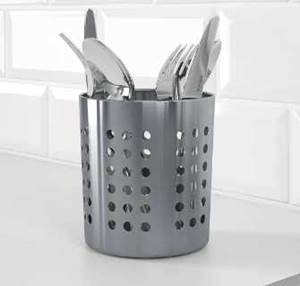 In addition to being the cheapest, it is one of the kitchen utensil holders that has had the most success in recent years.
Since the Swedish colossus of affordable design has entered Italian cities, few have been able to resist the charm of this object.
It is tall enough to hold utensils without tipping over and falling, so it is taller than ordinary cutlery and slightly narrower.
It has a double bottom to allow the water to flow and not remain at the level of the cutlery.
A useful feature that prevents the formation of deposits on the cutlery due to residual moisture.
Philips HD9190/30 Steamer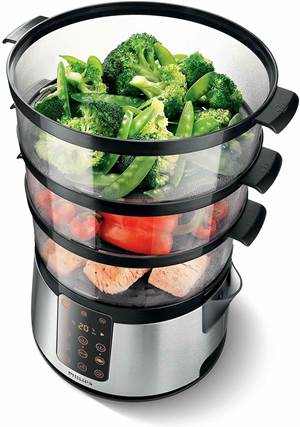 The Philips Avance Collection steamer consists of 3 capacious baskets that can be placed one on top of the other to steam several ingredients at once.
The total 9L capacity allows you to cook large quantities of food in no time while keeping the properties of fruits and vegetables intact thanks to healthy steaming.
The steamer boasts a number of programs to handle various situations and get the most out of each dish.
The Chef program allows you to cook different ingredients with the ideal combination of time and temperature for a more even cooking, the Meal program, on the other hand, allows you to prepare a complete menu with cooking times designed for each individual ingredient.
A digital indicator, on the other hand, will signal the amount of water present inside the main pot that can be added when cooking has already started.
Last but not least, the Philips Avance Collection steamer is also equipped with an aroma infuser designed to enhance the flavor of food with spices and herbs.
Simply insert them into the system and let the steam distribute them evenly.
Braun MQ5035 Immersion Sauce Mixer
The MultiQuick 5 minipimer features a variable speed system with 21 different speeds to choose from for greater precision.
This small but phenomenal appliance allows you to chop meat, cheese, herbs, vegetables, and more thanks to the strength of the blades and a 750-watt motor.
You can get the maximum control you require from a blender of this type with just one hand.
The accessories with which it is equipped further expand the possibilities of this product that can become an immersion blender, a mixer or even a mixer.
All this in total safety thanks to the EasyClick System that allows you to replace the accessories quickly and safely or the anti-splash design PowerBell Plus, to have a kitchen always at the top.
Ariete 1588 Vintage Kneader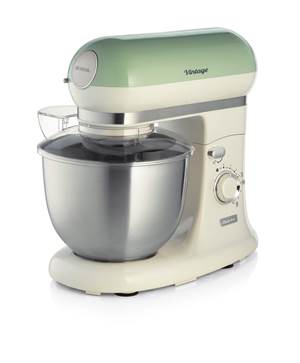 No kitchen is complete without an efficient kneading machine with which to prepare bread, pizza, and many other dishes at home.
The Ariete 1588 mixer guarantees excellent results thanks to a maximum power of 2400 W and 7 speeds available with which to work even the most consistent dough.
The large stainless steel bowl of over 5 liters offers great versatility and a wide range of preparation to mix, whip or blend any type of food.
This is helped by the three supplied whips and a hook specially designed for the most demanding doughs.
Stability and safety are guaranteed by the non-slip feet and the natural balance of the product that allows you to work even at high speed without any risk of falling or splashing, thanks to the splash guard lid.
This little powerhouse of technology is also characterized by the iconic design of Ariete's Vintage line; a mix of high technology, quality materials, and the simplicity of old-fashioned Italian design that make it one of the best appliances to use in the kitchen.