With the limited space available there is difficulty in designing a laundry room.
Ideas of laundry room tiles or floor tiles can make the room look more spacious and appear larger than the space available.
Pale color or we can say that light colors like white tiles, fresh or natural color will make that space more bright looking and more broad and roomy showing the aura of extra space.
More laundry room tile thoughts may include a water-resistant quality and its sleek touch is the best option.
The room will look broad by the reflection of the light away from glossy tiles.
Glossy elegant tiles add more grace and classiness to any damp room.
Marble is used in a conventional way and as a basic necessity; the design and pattern are all over the tiles giving it an elegant and high-quality appearance.
The arrangement of perfectly lined tiles on a surface of tiles that is matte with a perfectly suited color pattern gives an effortless look to an entire wall that refreshes the sensation of room and openness.
Further, if you wish for a pastoral, look to enhance the beauty of the laundry room of your priority then natural stone duplication tiles and porcelain tiles are perfect for this choice.
Selection of Laundry Room Tile
Think carefully and in a sophisticated way and then reflect on how you feel like your laundry room tile ideas to be.
Just stay with the idea of a cleaner line of up-to-date tiles if you desire to alter a wet room to a graceful and modish room with colorful tiles is a great choice.
● Standard tiles
These tiles can be placed vertically or horizontally, which makes the walls more expanded and the ceilings upon the walls more visible.
● Huge tiles
There are different big tiles in different sizes for example 25×40 cm. These big style tiles are a new means of decoration, but this style is not appropriate for wall decoration and gluing. They are perfect for large laundry rooms.
● Mosaic tiles
Mosaics are more classy tiles that look very pleasing to the eyes and irregular walls are made better with these tiles.
Eye-Catching Designs of Tiles for The Laundry Room
All these measures including square foot design are needed to decide on a good and eye-catching laundry tile design.
We need tiles for whole walls, a dirt-free floor, it should not affect by water damage and sometimes for the roof ceilings is a great way.
1. Stylish Mosaic Laundry Room Tile Designs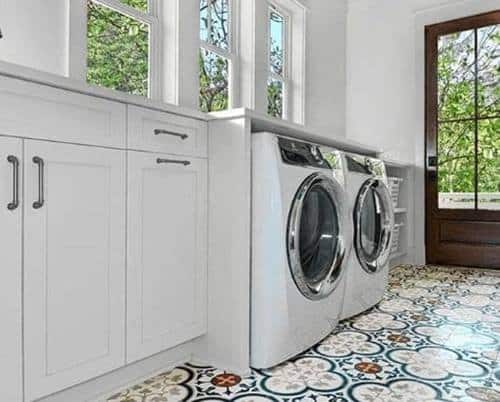 Mosaic tiles, enhance the laundry room like luminous coins and will augment a shiny appearance to the laundry room.
2. Fantastic Laundry Room Tile Concepts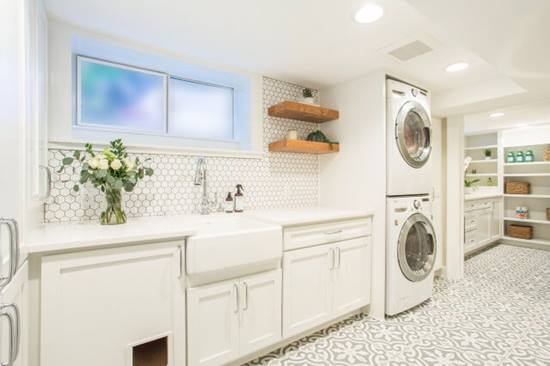 The laundry room should make a pleasing vibe and should be a glinting floor.
3. Wood-look Tile Flooring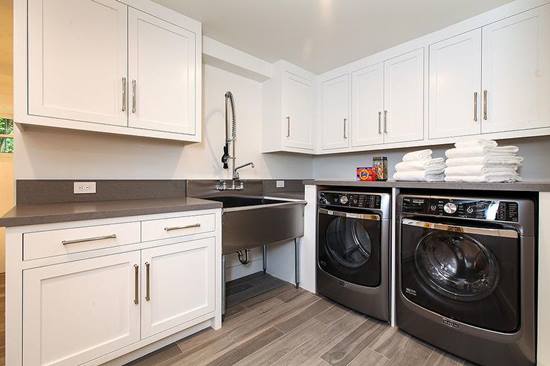 In wood tile flooring, granite countertops make the laundry room look traditional. Walls should be white while cabinets should be in wood-look tile flooring contrast.
4. Alluring Marble tiles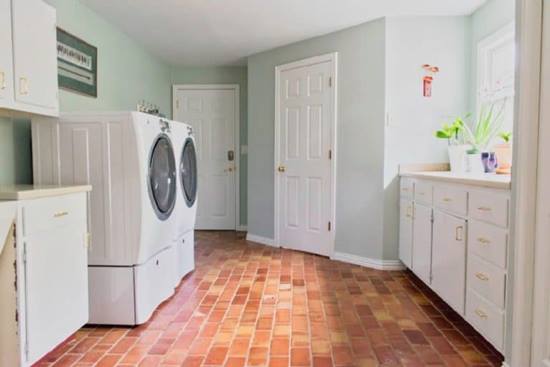 These types of stone tiles are perfect and right tiles that give a traditional, alluring, and stylish appearance to the rest of your house.
5. Neutral-colored Tones of Earth Tiles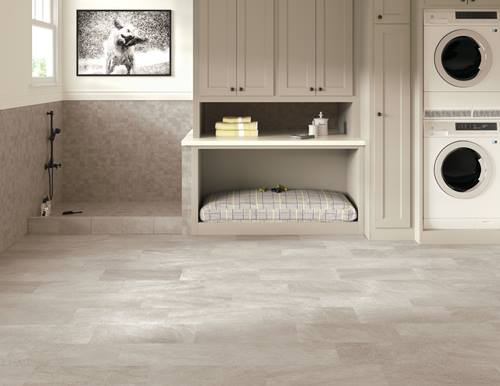 If you don't want typical white tiles you can go for tiles having tones of the earth. They are neutral-colored and are easy to retain.
6. Wooden Pattern Laundry Tiles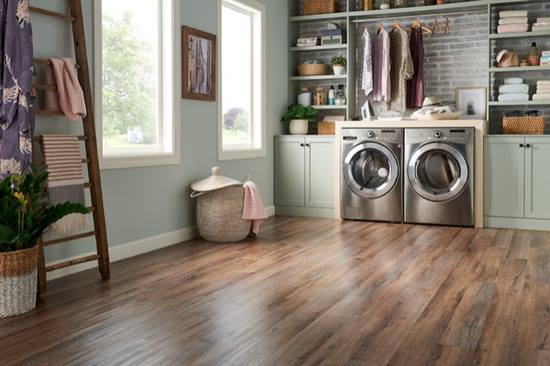 The laundry room is made more eye-catching by using tiles with wooden patterns and the room looks more spacious and like real wood with mudflaps pattern tiles and stylish wood pattern tiles.
7. White Subway Tile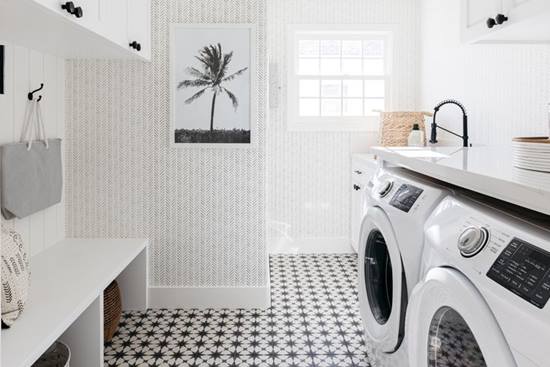 A backsplash with storage for a cabinet with white subway tile and an incorporated sink makes the laundry room flooring like a farm style.
8. Decorative Cement Tile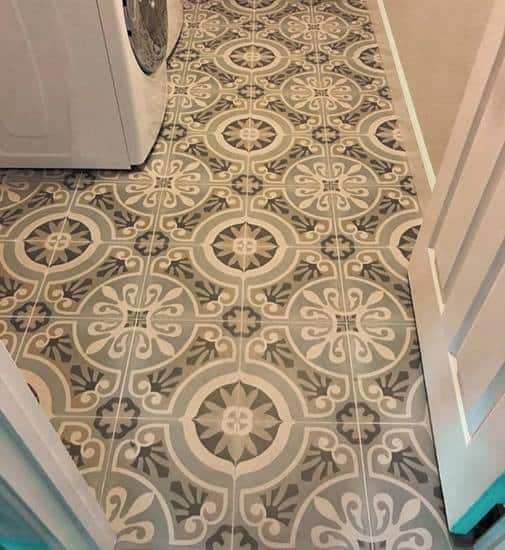 The decorative cement Tile gives a beautiful latest style to the floor.
9. Enchanting Blue and grey combination tiles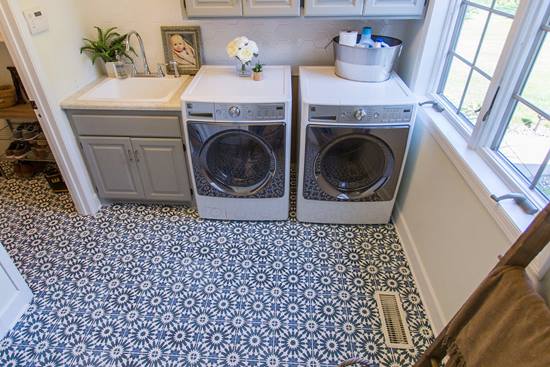 The laundry room with a blue floor has a great look along with the accent color cabinetry in the dark blue shade as well.
10. Bright Laundry Room Tile Ideas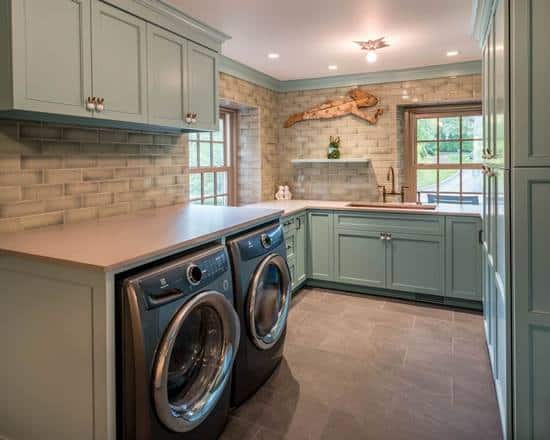 For a brighter room and a clean look for the laundry backsplash, an attractive pattern in dark colors make that area more visible as the laundry area should be tidy as it has dirty socks, dirty clothes, and a washing machine and laundry basket as well.
11. Tiles with Fishbone and Herringbone pattern floor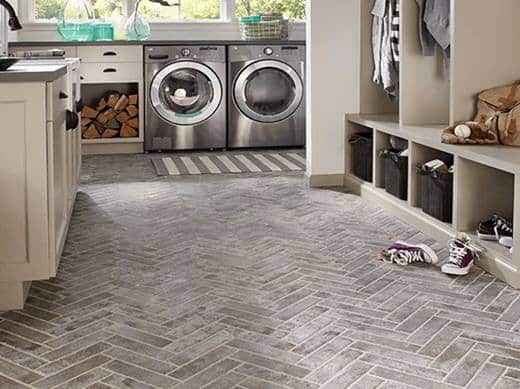 Tiles with a fishbone pattern and patterns like herringbone patterns give a lovely look to the deep olive-colored cabinets.
12. Best Silver backsplash tile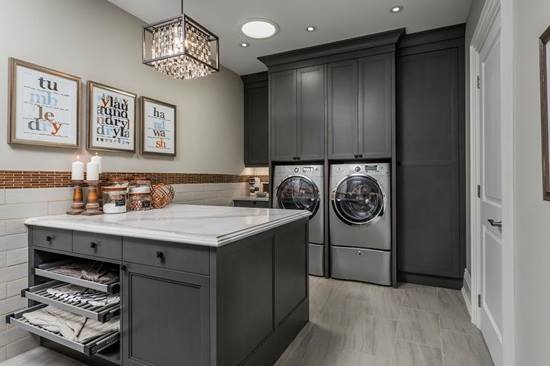 If you like to keep your dog in the best place then neutral grey backsplash tiles are best and eye-catching and give a contemporary look.
13. Amazing Glass Tile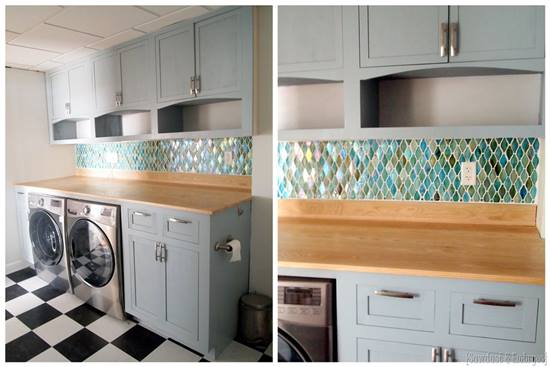 The size of the floor for the shower is six inches below the top of the control and 12 inches above the floor. Specially designed cabinets made of melamine.
14. Elegant and fashionable tile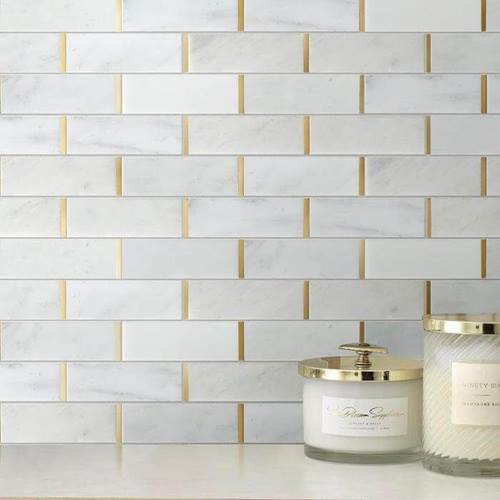 Any colored tile with a golden lining gives an appealing touch to the laundry room.
15. Laundry Rhombus Tiles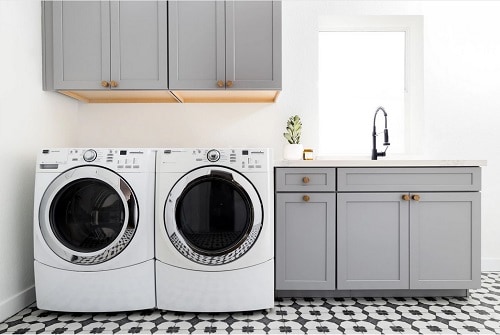 To make your laundry room broader and the area looks more spacious than Rhombus floor tiles will be perfect.
16. Small pattern Floor tiles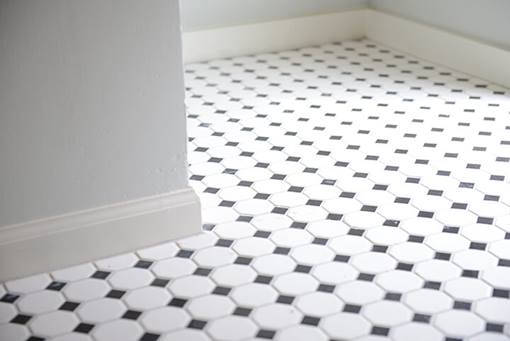 Modern farmhouses have a stone countertop in a lively style with a countertop in black tile, white cabinets, and floor tiles with smaller and elegant patterns are the best option.
17. Patterns in Abstractions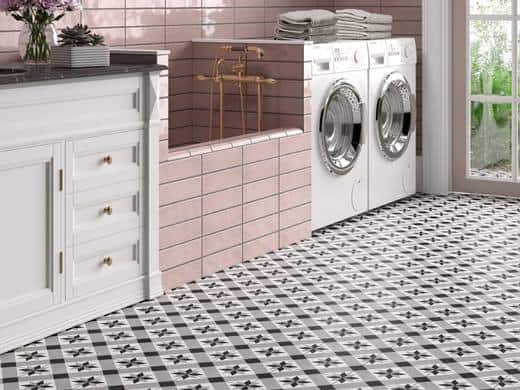 Splashboards made spacious laundry rooms and are more visible with a geometric pattern on them.
18. Vintage pattern tiles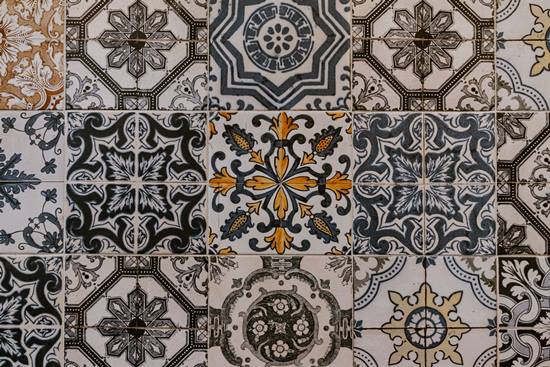 Vintage-style tiles with wood cabinetry, traditional pattern tiles, and gray wainscoting finish the look.
19. Combine and Contrast Your Tiles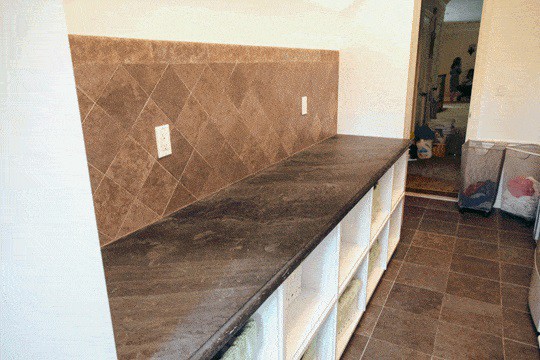 A vibrant and textured area is made by coating some countertops with graceful marble in the whole house.
20. Textured bricks can be used to line your floor.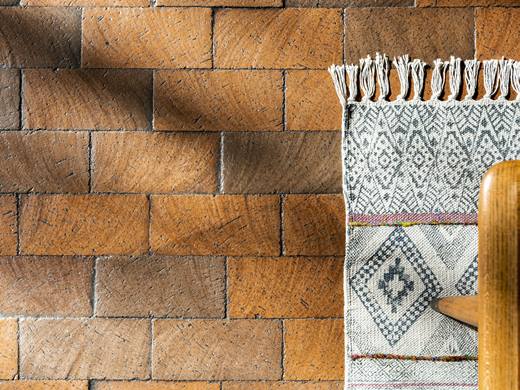 Instead of putting bricks on the lining of your laundry floor, some material should be used that is tough and should hold out the harsh washing.
21. Rustic Italian Spirit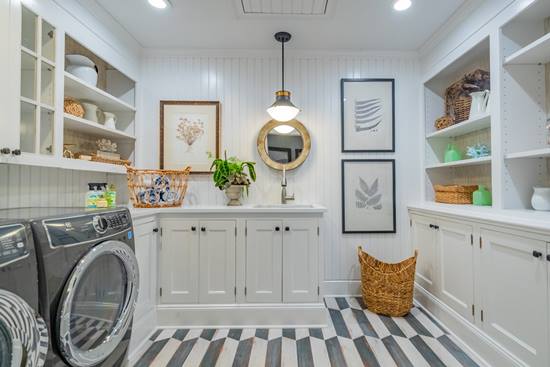 An Italian sparkle and a rustic touch give a captivating appearance.
22. Wood portraying tiles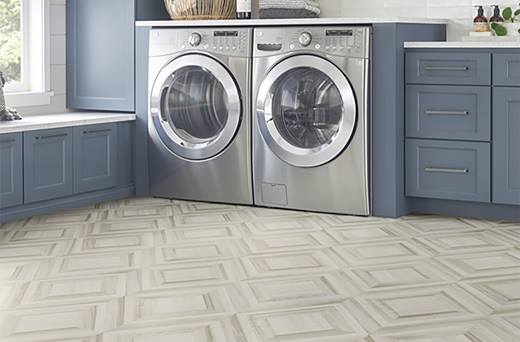 Tiles with wooden patterns navy blue cabinets and a white wainscot give an appealing touch to the laundry room.
23. Rustic Touch tiles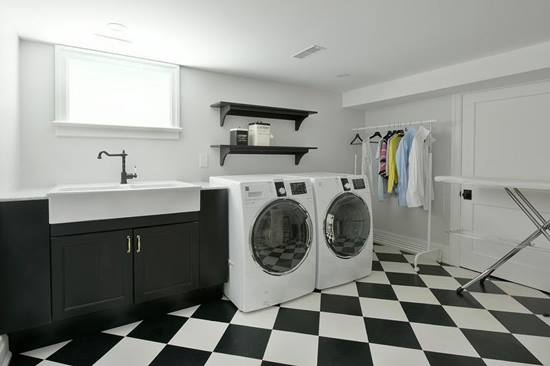 Tiles in black and white, grout patterns, and the presence of storage laundry baskets enhance the beauty of the laundry room.
24. Shiny Tiles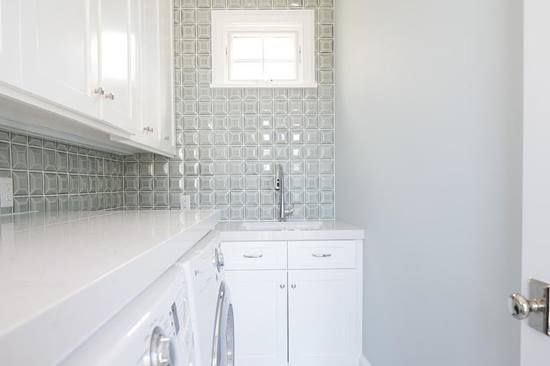 There are different procedures to make extraordinary laundry room backsplashes that do not need bright colors or spectacular designs.
We can add a divergent texture without troubling the area cautiously intended by matching the white laundry room with a shiny white backsplash.
25. Farmhouse Laundry Room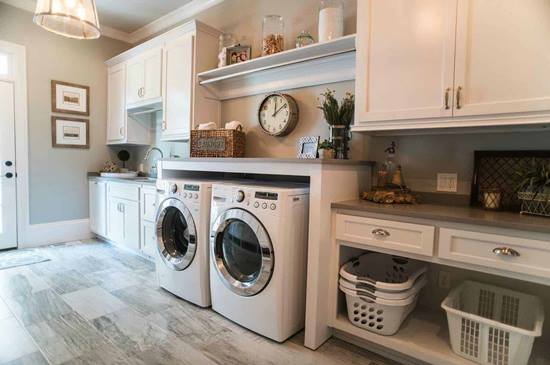 Traditional artistic design with modern appearance appliances makes the laundry more beautiful.
26. Country French Style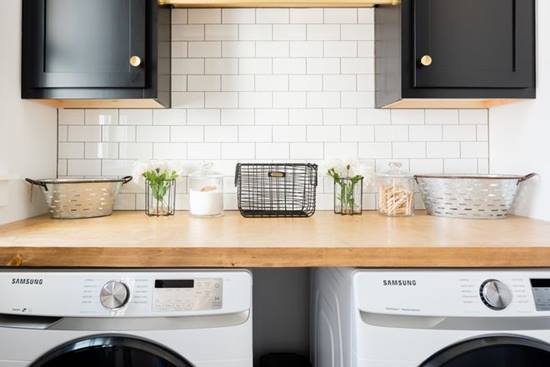 The modern white subway tile style of backsplash makes an appealing style in a French rustic style.
27. Backsplash tile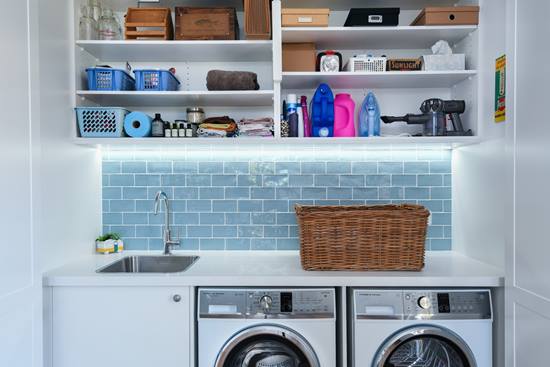 Drying racks for laundry are made by the use of common drawer glides, net bags, and wood frames. Modern tile backsplashes with vibrant colors give a stylish chic look.
28. Exquisite floor tile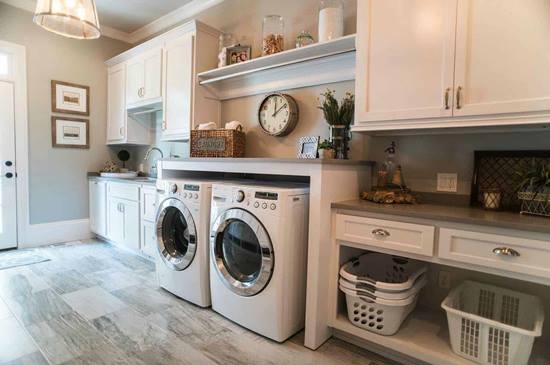 Farmhouse-style laundry room with a lot of space looks small but is efficient.
29. Ceramic Subway Tiles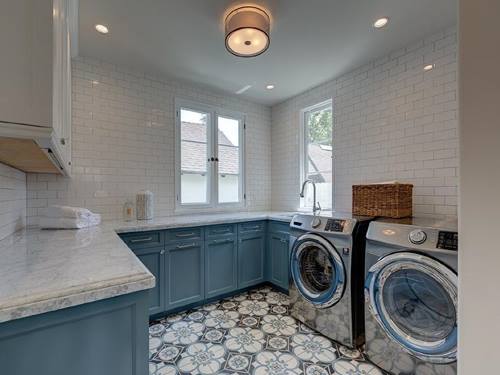 Ceramic backsplash subway tiles give a feel of linen to the laundry area.
30. Black and White patterns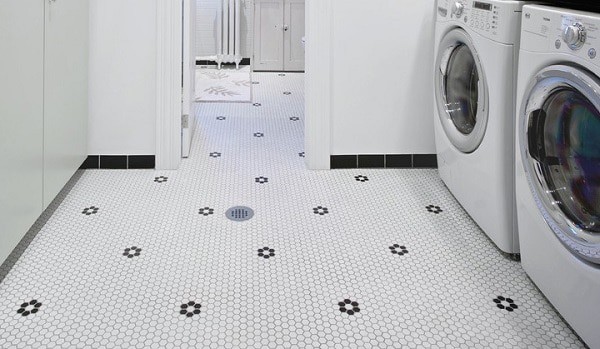 These small white and black style tiles give a pleasing feel to the eye.
31. White Cabinets and Grey Tiles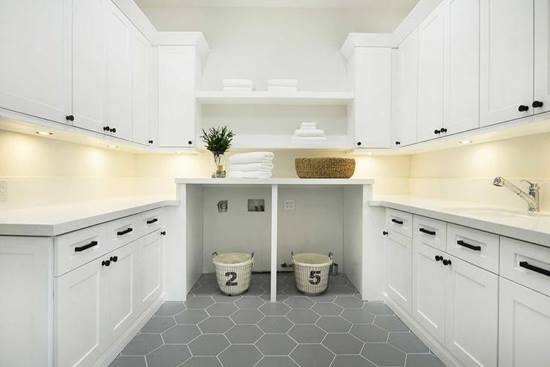 Hoary floor tiles in grey color are changing the beauty of the cabinets in white color.
32. Backsplash with fishbone and pattern floor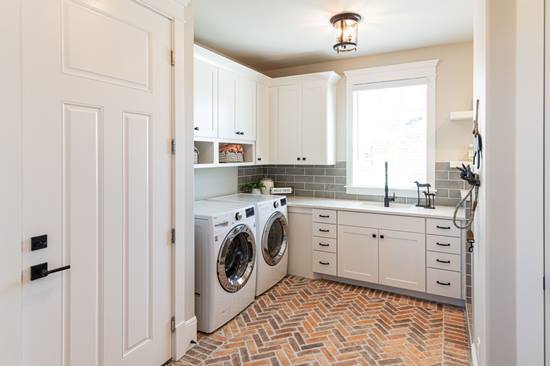 A fish bone and pattern floor backsplash have different designs.