Last week my wife and I were sipping our coffee in our little garden when we thought of painting the outside of our home.
Since we have never done it before, we reached out to exterior house painters in my area. Unfortunately, none were available.
So, we decided to do it ourselves, and I kid you not, it's one of the best memories we created as a family.
We followed a step-by-step guide that I'm going to share with you to help you paint the exterior of your home by yourself.
Let's begin with the primary points that I wish we knew before we painted the house. But you don't have to worry, and I'm going to share them so you can keep a check on them before you paint the house.
Here's What To Remember
The exterior of your house is subject to weather, dust, and other factors, so it's different than painting the interior, which is why you need to keep these points in mind:
Buy high-quality products, so they last longer and are durable to weather changes.
Take the existing paint off the walls, so the new coat looks seamless. Please don't overlook it as we did (we had to redo a wall due to uneven application).
Look for any rotten side of the door or the wall and fix it before applying paint there.
Prime the walls if you're switching from darker to a lighter shade
Start exterior painting from the top. It'll help you avoid the mess by the end.
That's it, folks. If you've put these measures in place, trust me, you're good to go. Now we'll jump into the process.
Exterior Home Painting
Painting the outside of your home is a tough job. There are no lies about it. Hiring a professional will ease the struggle, but DIYs make you learn something new, which is a win-win. And here, I'll tell you how we made out of the exterior home painting successfully.
● Plan Your Game
For home exterior painting, you need to check up on the weather first. If it's humid or rainy, think of another day. Otherwise, you're good to go.
Next, you'll have to choose the right color that makes your house look different from others. Here, you don't have to go all-in for bolds to stand out. Just listen to your style and follow it.
My wife and I went for more fabulous shades because we both are introverts, and we wanted our home to tell everybody. In case you're wondering how it turned out, it did pretty well reflecting us.
● Get Your Tools
To begin painting the home exterior, materials and tools are essential. These can include paint buckets, painting brushes or paint rollers, primer, scarpers, or sand. Having the tools at hand will keep you focused on the task. You won't have to go in and out, losing focus.
As I told you earlier, when you're buying paints and brushes, make sure they're high in quality to stand the tests of the weather.
● Prepare the Painting Field
By painting field, I mean the outsides of the house that you want to paint. So, if you're sure about the home painting exterior, you'll have to get rid of the existing paint that's there.
Because we had a lighter cream shade on our home's exterior, which we thought didn't need much attention since the color we are switching to is comparatively darker, we forgot to use the sand or scraper.
We were wrong, of course, and you don't have to repeat the mistake.
Get hands-on with your sandpaper or scraper, whatever you think is needed according to the condition of the paint, and start taking off the paint.
When done, feel the gaps or uneven areas with the caulker.
Once the paint is off, lay on a layer of the primer on the wall. It helps with a harmonious layer of paint application and also enhances the pigmentation of the final coat.
● Bring the Painting on
When your foundation is set with primer and everything, take out the 3-4 painting buckets (depending on the area to cover) and empty them in a bigger tub. Why? For an even paint layering.
A tip: Use a plastic sheet or canvas fabric to cover the floor to avoid paint stains there. If you've immoveable fixtures or furniture around the place, conceal them too because painting can be messy.
Get on the stool, grab a brush and start from the top. Remember to use a thinner brush around the edges to paint the outlines.
Once the outlines are done, you can roll on the paint roller as you like.
If you want to paint like professionals, please don't go all bananas with the paint. Do it nicely and patiently maintain the even application protocol there.
● Let it Dry
When you're done with home painting outside, leave the place to dry itself for 24hours.
If you've plans to write your initials over the newly painted wall or hang an ownership board there, do it once the wall is arid and keep a watch on children and pets if you have any.
So, folks, this is all you'll need for a safe home painting activity. We had a blast of fun doing the job, and I'm sure you will too.
Hmm, what else do we have on our plate? Let's talk about how the shades you choose present your individuality as ideal for painting the home's exterior.
Which Exterior Painting Shades Are Perfect for You?
You may have heard how color psychology works on us. Yes, that's true. People wearing lighter shades look calmer, whereas the ones with darker clothes give an elegant vibe.
So what's the case with house painting? The same.
1. Natural Hues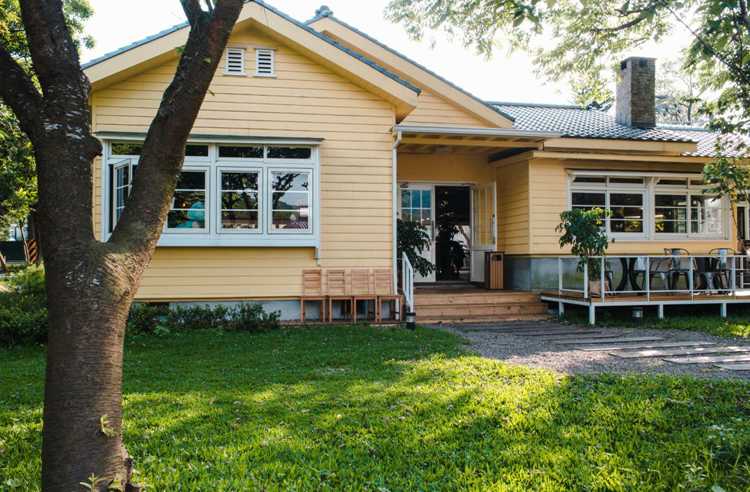 Natural hues always look better, especially if you live in a neighborhood where there are fewer trees. They give a very nature-like vibe to the place.
You can pick anything from white to lighter shades of brown, and your house will look decent and elegant.
2.   Grays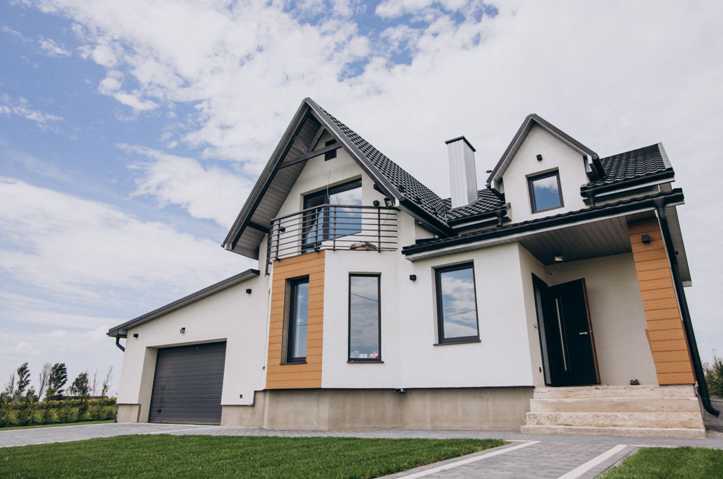 Gray color with all its shades has been trendy for ages. You can accent your main walls with one of the gray shades and use lighter shades of the same color family (you can use a color wheel).
Besides, gray goes amazingly well with other colors as well. You can use almost all the light shades of any color with it like shown in the picture.
3.   Blues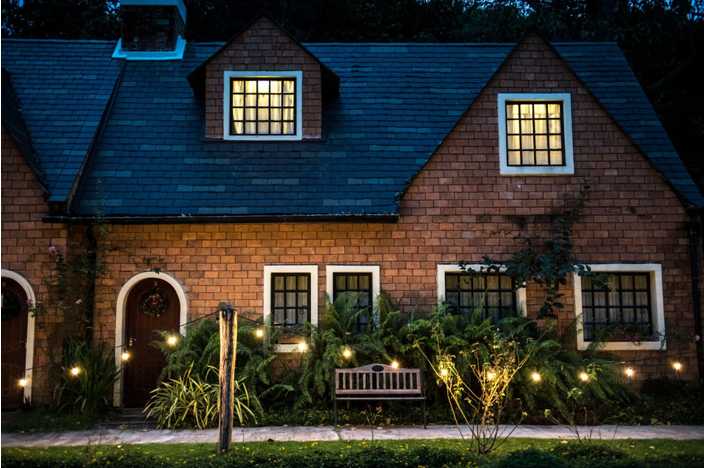 Blue color is always an option when you want to paint your home's exterior. Navy blue, like in the picture, looks exciting and cool.
You can go with a 10-30-60 rule. Use 10% of the space for accenting the exterior with the paint you chose, 30% paint for the doors and windows, and 60% for the space to paint with a dominant color.
Conclusion
Painting your home's exterior by yourself will save you money and help you become independent in cases where there are no professionals available.
Before you decide, please make sure the weather is in your favor, which means it shouldn't be less than 40F.
As we conclude, tell me in the comments about the last time you tried a DIY recipe.