A mini hot tub is a great addition to any trendy household. I know you must have seen pictures of people enjoying themselves in the comfort of their homes.
Or you've finally decided to invest in one instead of going to the spa every weekend.
In any case, we want to let you know you've come to just the right place.
We will explore small hot tubs and how they can spruce up your balcony.
Also, we'll give you some of our expert recommendations just in case you're looking to buy one soon. Let's get started!
What Is a Mini Hot Tub?
Hot tubs have come a long way since the early days of single-person oak barrels heated up by the fire.
Now you have large plastic models that can accommodate up to 15 people at one time. A mini hot tub strikes a balance between these two.
They are a great choice due to their portability, top-rate performance, and relaxation experience.
A great way to put it is, mini hot tubs are what a tablet is to a traditional desktop computer.
How Does a Hot Tub Work?
Just like the pipe used to dump the hot tub placed in the ground, if the hot tub is located on the balcony, a pipe could just as easily be used, with water being dumped in a tub.
The hot tub's vapors will be vented to the atmosphere, and the water can be dumped into the soil from the hot tub, or a drainage pipe that you have installed.
Filling and draining a hot tub placed on your balcony would mean running a garden hose from the tap to the hot tub to fill and from the spa to your bathtub to drain.
So it's a boon if you have a nearby water source. Typically, you will have to run a nearby hose from a faucet to fill your bathtub with gallons of water, then from your tub back to your sink or bath to drain it.
Also, something to consider would be the distance to your power source.
Can You Put a Small Hot Tub on a Balcony?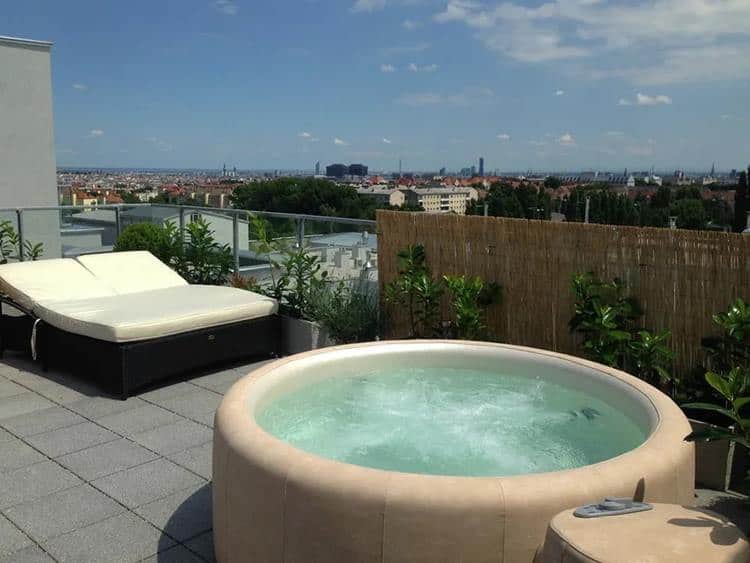 Next, if you reside in a high-rise apartment with a balcony, you could have been wondering whether there is a method for you to have a hot tub.
Is there a possibility that you may have a private hot tub to use on your balcony, regardless of your job or location?
The answer is an emphatic yes. If you live in an apartment, you have the option of installing a portable spa on your private balcony and using it.
Given the surge in hot tub usage in urban area settings, balconies are increasingly a good idea for creating your own perfect spa.
If you are placing your hot tub on your balcony, in your apartment on the upper level, or even on your roof deck, then you need to make adjustments for adequate drainage.
In addition to choosing how best to run your hot tub, you will need to think about how best to position the tub, as well as proper ventilation and drainage requirements.
You will have to obtain guidelines and approval from the Hot Tub Association before selecting a hot tub experience suited for your new urban lifestyle (more below).
If you have questions about that, or whether or not it is possible to install freeflow spas in the limited space that you have available, do not hesitate to contact us for more information.
Where Else Can You Put Your Hot Tub?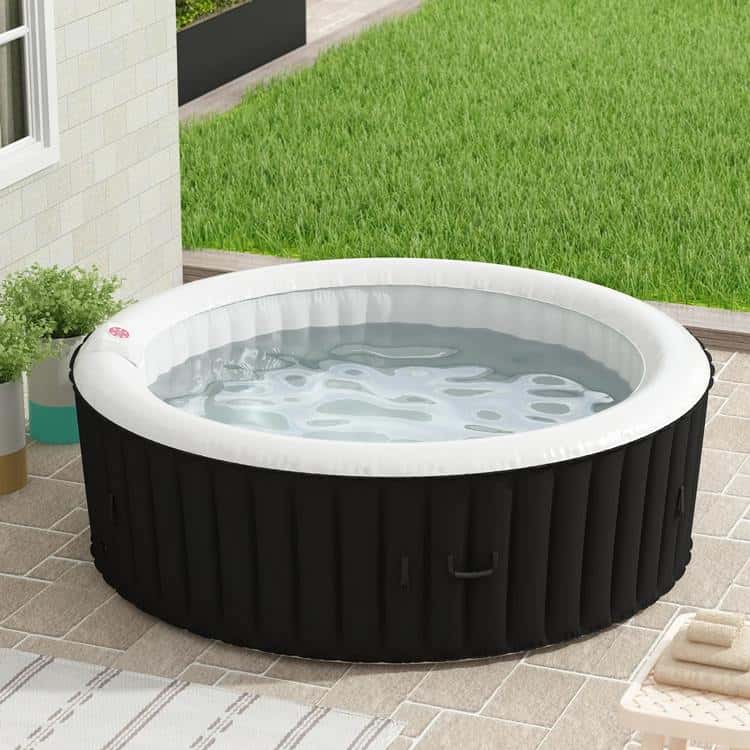 Designed for seating 1 to 2 adults, this compact spa is ideal for smaller spaces such as decks, balconies, or even patios.
A hot tub is an awesome addition to your backyard, and the Small Spa is easy to place on decks, small patios, and even condo balconies.
If you only have a small space outside, you can still enjoy the comforts and benefits of your own private spa.
If you have a smaller yard area, position the spa near the door and build the landscaping around the spa.
Smaller hot tubs can be installed in a limited-space yard, on a patio or balcony, or even inside. For saving sight lines in small spaces, sinking the hot tub into a deck area is an excellent idea.
Many balcony hot tubs have a freestanding design, which allows them to sit anywhere you want.
Edostory 2-3 Person Inflatable Hot Tub Spa offers a lot of extra features with its compact design, which is ideal for smaller spaces.
This tiny spa is made of lightweight, sturdy material, making it easy to set up and enjoy.
HydroSilk ozone, a 6 break PS pump, and high-quality insulation are a few of the factors that put American Spas AM-628TS in the top two-person spas.
The sealed spa cover traps all heat within the hot tub and keeps the water warm longer.
In fact, thanks to the use of a portable spa, you can have a spa or hot tub in any backyard of even a small size. In fact, all our 2-to-3-person hot tubs and spas just take up less space, while not at all detracting from luxury.
This means that several people can easily pick up a tub for yard placement, toss it into the truck, or trailer it behind their RV.
It is an awesome solution to that general issue, and it is yet another way that compact tubs are really taking off in urban areas.
As long as everybody is comfortable, it is an awesome solution, and it is a good way to ensure you at least have a hot tub that you can enjoy, even if it is not a private, just-for-you hot tub.
If you are planning on using the best hot tubs only with your partner, you could get smaller, circular hot tubs made especially for couples, and save on costs.
Whether you want to enjoy relaxing sessions with your wife, best friend, or girlfriend, the best 2-person hot tub is the most appropriate product to help couples to relax and enjoy the good times together.
If you live in a flat or an apartment and are fortunate enough to have some outdoor space, thanks to your balcony, you might wonder whether you can join the growing group of people investing in the benefits and joys of home-based regular hot tubs.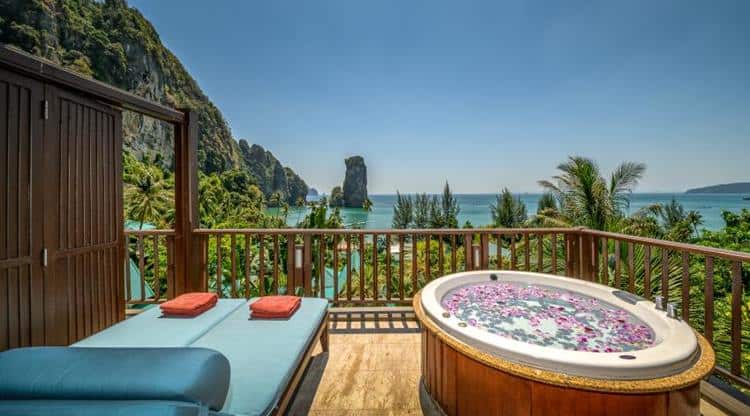 Create a perfect cooking area within the deck design that allows you to entertain family and friends alike.
Not only is this an ideal addition to your outdoor living space, right next to the hot tub, but it also keeps you engaged in the conversation without having to go back inside to get anything.
By integrating dramatic architectural lighting into the hot tub's design scheme, you create a multi-functional entertainment space that doubles as a soothing spa experience during the day, and an ideal venue for parties at night.
Add a walking trail to the design (earth) of your yard, set up a tiki light (fire), hang wind chimes (wind), and incorporate a fountain, swimming pool, or hot tub (water) to amplify your outdoor space and reconnect with your senses.
The typical hot tub is 6-feet-diameter and takes up around 30 square feet (a rectangular tub is around 48 square feet), and you will want to include extra space for walking and entertaining around the hot tub.
For indoor installations in existing spaces, your best option is to check with your local Master Spas Dealer for the exact dimensions of openings needed to relocate your hot tub to a room.
The Bestway SaluSpa is the best inflatable hot tub for a spa balcony, provided it has been verified the load-bearing capacity of the balcony is at least 100 pounds per square foot.
Do keep in mind, though, if you are looking to do that, you would need to consult with a structural engineer to ensure their balcony is capable of holding up the total weight of a portable hot tub, the water, and people enjoying it with you.
Some Amazon Links for Hot Tub Options
These are some of our top picks out of Amazon.
We paid attention to the user reviews and our experts regard these ones as their top recommendations. Although these are high quality they also come at an affordable price.
Bestway SaluSpa Miami Inflatable Hot Tub, 4-Person AirJet Spa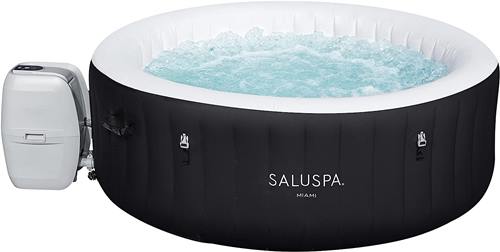 This one is one of the more popular models with more than 500 users giving it a go.
It's no wonder this one is our top pick since you get to fully enjoy the spa experience with this model. It accommodates up to 4 people at a time.
You get to kick back and relax after a tiring day at the office. The digital control panel lets you change the water temperature (up to 104 degrees Fahrenheit) and flow of the jets without stepping out of the tub.
An energy-efficient system that incorporates a power-saving timer can even automate the temperature of the spa up to 72 hours in advance.
The puncture-resistant tri-tech material and I-beam construction make this a great investment since it will not lose its shape even when people lean on it.
Simple setup and maintenance: no extra tools are needed to set up This portable spa.
Simply inflate and deflate with the spa's own pump! Hot tub covers are included for safety reasons, to maintain the water's warm temperature, and keep the water clean from debris, such as rain or Leaves.
Made for on-the-go usage: with lift handles, the spa can be moved around with ease. This spa deflates compactly for optimal storage and transportation purposes.
Coleman SaluSpa Inflatable Hot Tub | Portable Hot Tub W/ Heated Water System & Bubble Jets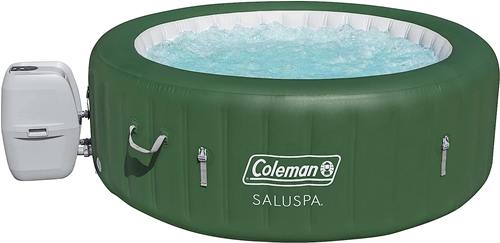 Comes in two colors- Green and White. Made out of Polyvinyl Chloride. 4.3/5 stars in customer reviews.
With this hot tub, you can enjoy your own ultimate spa experience in the convenience of your home. Just picture those days sinking your tired body into the bubbling hot water after a long day at work.
It's simple to operate with a digital control panel which lets you adjust the temperature to suit your needs.
It's made out of strong PVC material which makes it durable and means your hot tub will never lose its shape in spite of the heat.
Although there were some reviewers who complained about struggling with installation we beg to differ.
Reviewers found the setup to be simple and straightforward plus maintenance wasn't a hassle.
Because of the lift handles it comes with, it's easy to pack it up and transport it somewhere else. This also means it's great for storage purposes.
Conclusion
The best compact spas still offer a place to rest your drink and somewhere to hang a robe and towel, so you are going to still feel as though you are having a truly luxurious time in your backyard.
As you can see, you can have an essential hot tub or spa no matter who you are, where you live, or how much space you have available to you.
If you have any queries about this or whether you can get a spa installed in the space you have available, feel free to get in touch to find out more.